Illustrated History: Mbya Guarani culture and history reports from an indigenous perspective
---
The project aims to contribute to the preservation of the history and culture of the Guarani courts through the making of comic books about the daily life of the villages.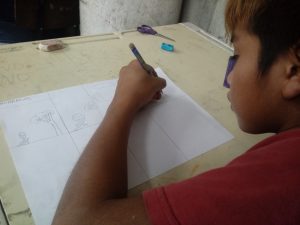 Comic book workshops at the indigenous school

Mobile device usage

Comic Book Publications
The work contributes with the learning of students/Indians, with an understanding of the writing system (Portuguese and Guarani), mastery of new technologies and appreciation of Brazilian indigenous history and culture.
Faça download do e-book gratuito "História Ilustrada: Relatos da Cultura e História Mbya Guarani sob a Ótica Indígena" neste link.
Team :
Prof. Juarez Bento da Silva, Coordinator
Prof. Simone Meister Sommer Bilessimo, Adjunt Coodinator
Prof. Jaqueline Steffens da Rocha, Coordinator
Jadson de Stefani, Scholarship
André Vinício Bialeski Vieira, Scholarship
Isabela Nardi da Silva, Contributor
Angela Paula Drawanz Gotzke, Contributor
Partners: