Durante o III Simpós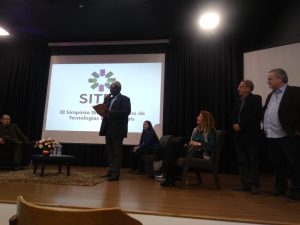 io Ibero-Americano de Tecnologias Educacionais – SITED,  que correu no dia 06 de Junho, os pesquisadores do RExLab: João Bosco da Mota Alves,  Juarez Bento da Silva, José Pedro Schardosim Simão e Lucas Mellos Carlos receberam homenagens do Institute of Electrical and Electronic Engineers (IEEE) Education Society pela colaboração e serviços prestados de modo voluntário ao grupo de trabalho Network Smart Educational Learning Objects for Online laboratories (P1876TM WG), criado pela IEEE Standards Association (IEEE-SA).
Hamadou Saliah-Hassane, membro do IEEE, coordenador do grupo responsável P1876TM WG, professor e pesquisador da TÉLUQ University (Montreal/Canadá), destacou os relevantes trabalhos e contribuições que o  RexLab vem aportando para o desenvolvimento dos laboratórios remotos ao longo de seus 22 anos de atividade.
Sobre o IEEE
O IEEE é atualmente a maior organização técnica profissional do mundo. Conta com mais de 423 mil membros em mais de 160 países, entre engenheiros, cientistas, pesquisadores e  outros profissionais que atuam na engenharia, e, ciências elétricas e de computação. O IEEE publica quase um terço da literatura técnica mundial. Produz livros técnicos, monografias, guias e livros didáticos. O IEEE, estabelece normas e padrões internacionais.