C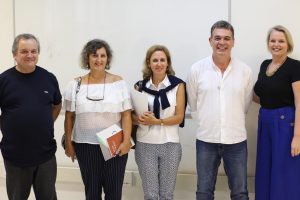 om a visita das Profs. Arcelina Marques e Natercia Lima do Departamento de Física do Instituto Superior de Engenharia do Porto (ISEP), Portugal, e do Prof. Luiz Paulo Brandão do Instituto Militar de Engenharia (IME) e Vice-Presidente da Associação Brasileira de Ensino de Engenharia (ABENGE), docentes da Universidade Federal de Santa Catarina (UFSC), Instituto Federal Catarinense – Campus Sombrio (IFC) e Faculdade SATC participaram de atividades de capacitação promovidas pelo Laboratório de Experimentação Remota (RExLab/UFSC).
Estas ações fazem parte da Training Action 3 do projeto "VISIR+: Educational Modules for Electric and Electronic Circuits Theory and Practice following an Enquiry-based Teaching and Learning Methodology supported by VISIR", que visa a disseminação da plataforma nos países da América Latina.
A plataforma VISIR é um laboratório remoto para ensino de circuitos, que permite que alunos manipulem através da internet um conjunto de componentes eletrônicos reais, e utilizem instrumentos como gerador de funções, multímetro e fonte para a elaboração de circuitos.
A capacitação foi oferecida no Campus Araranguá da UFSC na segunda (13/09) para professores da UFSC e IFC que já participam do projeto e quarta (13/09) para professores convidados, e na terça (12/09) a comitiva fez uma visita ao campus da Faculdade SATC, em Criciúma, onde capacitou professores de cursos técnicos e de engenharia.
O VISIR+ é um projeto que contempla a instalação e utilização de laboratórios remotos VISIR em universidades do Brasil e Argentina em parceria com universidades de Portugal, Espanha, Áustria e Suécia, e é apoiado pelo programa Erasmus+ da União Européia.